34 Appliance
3000L, 4WD Appliance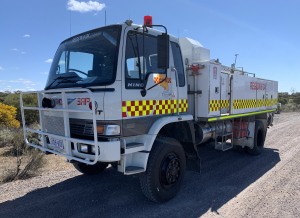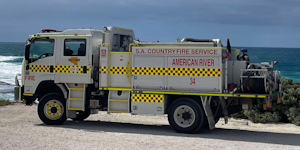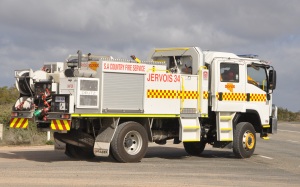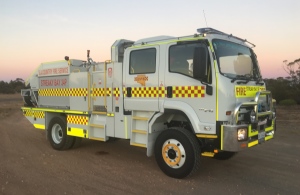 A 34 appliance (pronounced as 'three - four appliance'), carries around 3000 litres of water and has 4 wheel drive capability.
This is the most common type of appliance in the CFS.
Varieties exist within this type of appliance and the following are some of these
34 Rural, which carries the standard stowage. (34R)
34 Pumper, with extra outlets on the pump, and space for a additional equipment such as breathing apparatus, or road crash rescue. (34P)
34 Urban / Rural Pumper, with extra BA sets, larger pump and equipment space for carrying extra equipment such as road crash rescue. (34URP)
A 34 appliance is suitable for all terrain conditions and is suitable for combating rural incidents and urban responses. It carries a basic set of equipment, with additional specialist equipment being carried, depending upon individual brigade requirements.
Specifications
A 34 will carry a basic set of equipment, which may include:
Foam
First Aid kit
Standpipe & key
Fire lighters
Rake hoe
Assorted extinguishers
Rope
Knapsacks
GRN radio
GRN hand held radio
VHF and /or UHF handhelds
Additonal equipment may be carried, depending on individual brigade requirements. Equipment carried may include:
Breathing Apparatus
Haligan tool
Hydraulic Road Crash Rescue equipment
Hazardous Materials Equipment
Ceiling pike
Rescue Stretcher
Oxygen kit
Absorbant material (for oil spills etc)
Chainsaw
Generator
Additional lighting
Salvage sheet
Positive Pressure Ventilation fan
GPS
Please Note: The above information is provided as an example of a typical appliance of this type. Actual equipment and configuration of appliances may vary to suit requirements of the station to which it belongs.