Communications Van
Mobile Incident Communications & Command Unit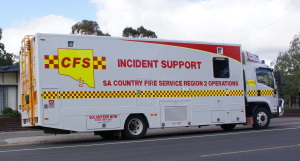 These appliances, vehicles and trailers are utilised for Communications Field Work and Incident Command. They provide a means of allowing strategic positions to be set up near the incident, to facilitate a communications area between the base stations and control centres to the incident or fireground.
Mobile Radio Base Station
Weather Station
Maps and resource information
Incident Command and office equipment
Photocopier, Fax, Mobile and Satelite Phones
Please Note: The above information is provided as an example of a typical appliance of this type. Actual equipment and configuration of appliances may vary to suit requirements of the station to which it belongs.