Trailer Pump
Stand alone trailer mounted pump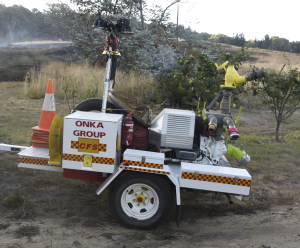 These units consist of an independently powered pump, mounted on a trailer and are used to pump water from dams or creeks to a second location.
The trailer can be towed behind a CFS Command or logistics vehicle, and placed nearby a water source, such as a dam or creek, allowing crews to access water easily, without having to set up their own pump for draughting each time they require water.
A trailer pump is more manoeuvrable than a large fire appliance, and may reach areas that a large truck may not be able to.
Equipment carried on a Trailer Pump may include:
Please Note: The above information is provided as an example of a typical appliance of this type. Actual equipment and configuration of appliances may vary to suit requirements of the station to which it belongs.