Hoses
Getting water from A to B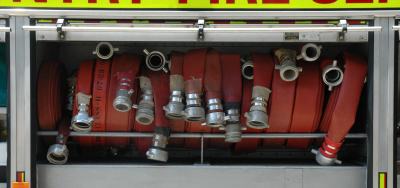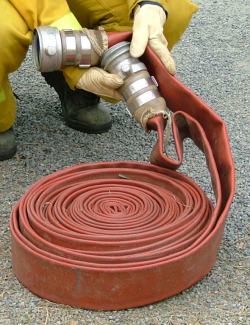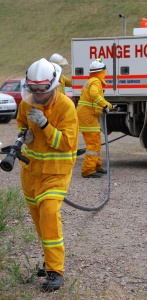 Brigades utilise a wide variety of hose types depending on the incident and what they are dealing with. For rural fires, small layflat hoses and rubber hose lines (side lines) are favoured, due to their flexibility and low weight. With a building fire, large layflat is used to provide a volume of water quickly, and large hard suction hoses can be used for flooding incidents, and refilling of appliances from water sources.
The following descriptions below lists the most common types available, and which will be found on most appliances.
The standard length for all layflat hoses used by the CFS is 30 metres. The picture to the left shows a 64mm hose (2 1/2") with a male and female SAMFS coupling rolled on the 'Bight" or from the middle. The term layflat is apparent in this picture and allows for easy storage when empty. When filled with water, these hoses take on the familiar round shape.
Other sizes of layflat carried by appliances are 38mm (1 ½"), with SAMFS couplings and 25mm (1") which are fitted with Forestry Couplings, formerly called Wajax couplings. Some brigades were issued with 50mm layflat but has not been widely accepted. CFS is in the process of moving to a national standard of coupling, with 38 mm and 25 mm hoses gradually being changed over to Forestry couplings. The national standard coupling for 64mm layflat hoses is a Storz 65mm coupling.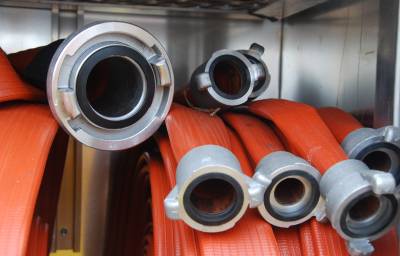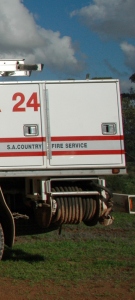 All CFS appliances that carry water for firefighting (not including command vehicles, some specialist rescues and hazmat vehicle) have at least one rubber hose line mounted onto a hose reel - commonly referred to as a sideline.
Sidelines are commonly 25 mm (1") reinforced rubber hose, although smaller hoses are in use on some appliances. Sidelines have the advantage of being able to be deployed immediately- without having to be unrolled before use, unlike layflat hoses. The length of the sidelines vary between brigades, and is often dependant on the brigades requirements. All sidelines are a minimum of 30 metres long, although some brigades have 60 metres, 90 metres, and in some cases a little longer.
While the layflat hoses and rubber sidelines are used for the delivery of water, hence the term 'Delivery Hose', other types of hose are used for the collection of water. The most common is the 'hard suction' hose, made from a reinforced material to ensure the hose stays in shape while the internal pressure drops, preventing the hose from collapsing, and stopping the water flow.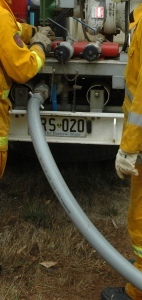 Hard suction hoses commonly come in lengths of 3 metres, 2.4 metres or 1.8 metres, depending on the brigade requirements. Generally, hard suction hoses are 64mm in diameter, although on smaller appliances 38 mm hard suction hoses may be found.
Sometimes a 'soft suction' length of layflat is used to collect water from a pressure source, such as a hydrant, which protects the source from oversupplying the appliance. If the pump sucks more water than the hydrant can supply, the soft suction hose collapses, reducing the water flow automatically, and protecting the pipes of the source. The soft suction hose is often referred to as a "filler length" - and is simply a shorter length of 64 mm layflat hose, often around 8 metres long. This means a 30 metre length of hose doesn't have to be unrolled ("bowled") when only a short length is required.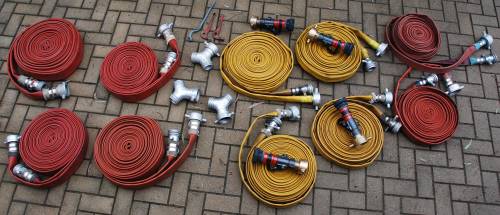 In the event of a hose becoming damaged while in use on a fireground, the firefighter will indicate a hose length as faulty by placing a half hitch knot on both ends of the hose.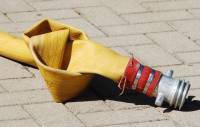 Photographs on this page taken by Ashley Hosking, CFS Promotions Unit