Hazardous Material Handling Equipment
Containing and Controlling Dangerous Substances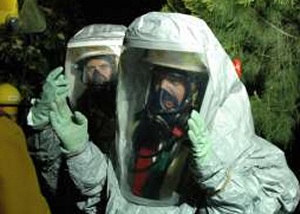 Hazardous Materials are used in the Industrial and Commercial Production of Crops, Equipment and Components, as well as in the home environment.
Numerous brigades around the state are equipped with chemical suits, chemical detection equipment and chemical resistant containers to deal with chemical or biological spills.
CFS utilises Tyvek chemical suits - commonly called "Splash suits" - an all-in-one protective suit, which encloses the wearer from head to foot. Breathing apparatus must be worn under the splash suit, to enable the wearer to breath clean air. The wearer also has PVC boots and gloves, which provides protection from the hazardous material.
Various brigades carry chemical detection equipment - that is equipment designed to assist crews in identifying specific chemicals, or to provide crews with information about levels of particular chemicals in the area of interest.
When crews deal with Hazardous Materials spills, the splash suits, boots and gloves may be contaminated with the material. Decontamination is undertaken at the scene of a spill, in a controlled environment. Decontaminated equipment is then placed into large plastic bags, for full decontamination off site.
Many Hazmat brigades also carry "over drums" - chemical resistant drums, with a screw top lid, in varying sizes, into which spilt materials can be placed, secured, and transported for appropriate disposal.
Photographs on this page taken by Ashley Hosking, CFS Promotions Unit