Generators
Portable Power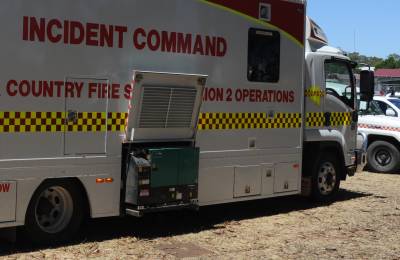 The Fire Service attend many calls during the night, in poor light or in low visibility conditions which require lighting to assist the members in the incident. To operate these lighting plants, generators are utilised to supply the required power.
The normal generator will be a 2 to 10 Kva model, either mounted in a frame with wheels to facilitate easy transfer to and from the incident, and to protect the unit from damage, or fixed in an appliance with all equipment running from it and mounted on a sliding frame on the appliance to assist in removal of exhaust fumes and heat.
In the CFS Regional Communications vehicles, one or more of these generators will be used to provide enough power to operate the communications equipment, such as radios, fax machines and computers, in remote areas which may not have power supplied or have been isolated due to the incident.
Photographs on this page taken by Ashley Hosking, CFS Promotions Unit