The High Rise Kit
Equipment for multi storey buildings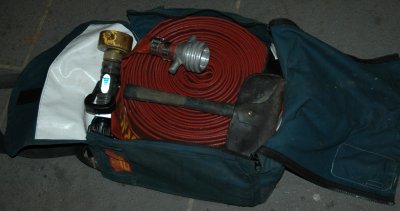 The High Rise kit has been designed to assist firefighters, who work in large Multi-Storey buildings, with a means of utilising the hydrant booster system.
This kit contains enought hose to reach 60 metres with a branch. It also has a hydrant key for turning the hydrants on and hardening, or tighening the hose fittings, and a small axe to assist with entry into doors if required. With all this packed into a knapsack, it becomes easily transportable and compact until required.
When an appliance is connected to the Hydrant Booster of a building, usually located in a box near the street, it provides additional pressure to all the floor hydrants in a large building.
Photographs on this page taken by Ashley Hosking, CFS Promotions Unit