Traffic Control
Managing traffic at an incident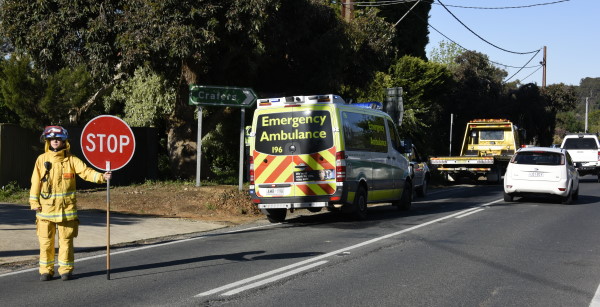 Many of the incidents that the CFS attends, there is a need to work on or near the roadways, hence the need for control measures in place to ensure a safe workplace for firefighters and other emergency service personnel, as well allowing traffic flow to continue, where possible.

Firefighters can use use a number of pieces of equipment to assist in traffic control. These include Traffic Cones, (sometimes called 'witches hats' because of their appearance), Stop / Slow Bats and e-flares.
In conjunction with some signage, these items will be used to set up an area which will maintain a vehicle free safety zone to allow emergency service personnel to carry out their duties, and where possible, allow a passage of vehicles, sometimes one direction at a time, or totally close a road and redirect traffic along an alternate route.
It is to be remembered the speed past red and blue flashing lights is no greater than 25 km/h - whether on an emergency vehicle, or lights independant of a vehicle (eg e-flares). This lower speed limit enables a safer working environment for emergency service personnel working on roadways.
Photographs on this page taken by CFS Promotions Unit