Standpipe
Standpipe and accessories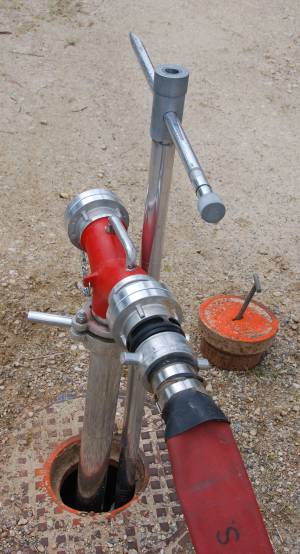 A standpipe is a piece of equipment designed to locate into a hydrant mounted to a water main, usually down in a manhole on a roadway, to allow water to be taken in a controlled way for firefighting purposes. Each appliance will carry at least one of these standpipes, a standpipe key and handle and a plate cover key.
A plate cover key is a tool placed into a slot on the top of the hydrant plate cover, to remove the cover, and enable access to the water main. There are several versions of the plate cover key from a small version, to a large plate cover lifter, used particularly in high volume traffic areas, where hydrant cover plates may prove more difficult to remove.
The standpipe key is generally Aluminium, with a removable handle for easy storage, and is used to enable firefighters to access the tap within a hydrant, and turn the water on and off as required.
Most CFS brigades use an aluminium double headed standpipe fitted with either an SAMFS coupling (older appliances) or a Storz coupling, (newer appliances) and one side fitted with a blanking cap. A Storz to SAMFS coupling adapter is also used to couple up to older hoses if required.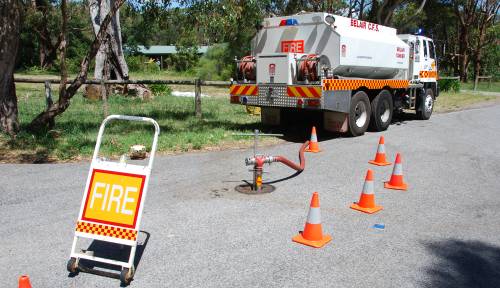 To test a standpipe,without wasting water, a hydrant test tap is carried on appliances, fitted with a garden tap to a 64mm SAMFS female coupling (or Stortz coupling for newer appliances) which is fitted to the hydrant. When the hydrant is turned on with the hydrant key and handle, pressure can be tested using the tap.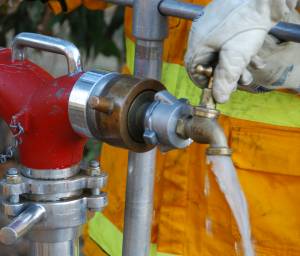 Photographs on this page taken by Ashley Hosking, CFS Promotions Unit