Salvage Sheets
Providing cover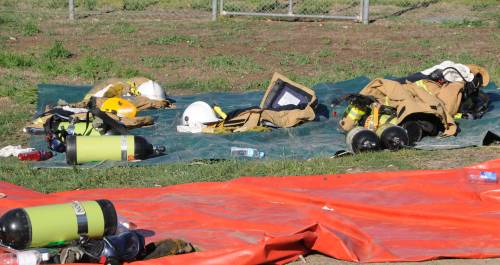 Salvage Sheets, often called tarpaulins, are used extensively by the CFS and other emergency services as a means of covering or protecting equipment or property or giving crews a clean surface on which to place equipment.
Many appliances carry two Salvage Sheets, a red and a green one, made from Nylon and 4m x 4m in size. The edges are fitted with eyelets to which is attached lanyards or rope to secure it in place. They may also be held to the ground by weights or pegs if needed. A roll of light rope is also supplied to assist with securing the sheets in place.
At an incident which involves the wearing of Breathing Apparatus, the green sheet is designated as the 'clean' or 'good' zone, whilst the red sheet designates used or out of service equipment.
Photographs on this page taken by Ashley Hosking, CFS Promotions Unit