Country Fire Service Foundation Inc.
An SACFS Volunteer Supporter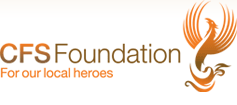 The CFS Foundation was established in 2000 for the sole benefit and support of South Australian CFS volunteers and their families.
It provides financial assistance when a CFS volunteer is injured or killed as a result of protecting our communities, and develops initiatives that support the CFS's continued activities.
As the support of CFS volunteers cannot be fully met through government funding or other financial options, the CFS Foundation - with the public's generous assistance - recognises and helps our local heroes in times of great need.
The major objective of the CFS Foundation is to provide financial assistance to CFS volunteer firefighters and their families who have suffered through death, injury, loss or damage of property while in the line of service.
Other objectives of the Foundation include:
Enhance the fire fighting capacity and expertise among CFS volunteer firefighters through fellowships, education and professional training.
Increase public awareness of contributions to communities by CFS volunteer firefighters.
Application Processs
To enquire about applying for a grant or making a donation, please contact the Office of the CFS Foundation Inc. on 1300 270 278 or email at admin@cfsfoundation.org.au.

Information from the Official CFS Foundation Website and Photo from the CFS Promotions Unit