General Information about the SACFS
The SA Country Fire Service (CFS) is a volunteer based, fire and emergency service dedicated to protecting life, property and environmental assets in regional and semi metropolitan South Australia.
With approximately 14,475 volunteers and 128 staff (FTE), CFS provides a range of fire and emergency services to more than 425 communities across South Australia.
CFS brigades attend around 7,000 incidents each year. These incidents include:
Bushfires
Structure and Motor Vehicle Fires
Road Crash Rescue
Hazardous Material Spills
Structure and motor vehicle fires
Support the SA Metropolitan Fire Service and State Emergency Service.
In addition, CFS also works closely with local government to perform the important role of fuel removal, bushfire prevention and community bushfire and fire safety education.
With a vision of 'A Safer Community', the CFS mission is:
To protect life, property and the environment from fire and other emergencies whilst protecting and supporting our personnel and continuously improving.
The SA Country Fire Service (CFS) operates under a continuous improvement methodology and is always strategically planning to assist the community.
From the SACFS official website, Copyright © SA Country Fire Service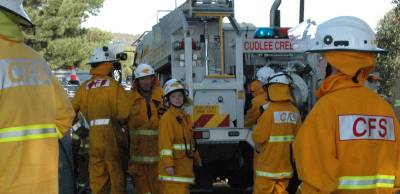 Photo taken by the CFS Promotions Unit