Fire Locating
Ever Vigilant in the State's Highest Office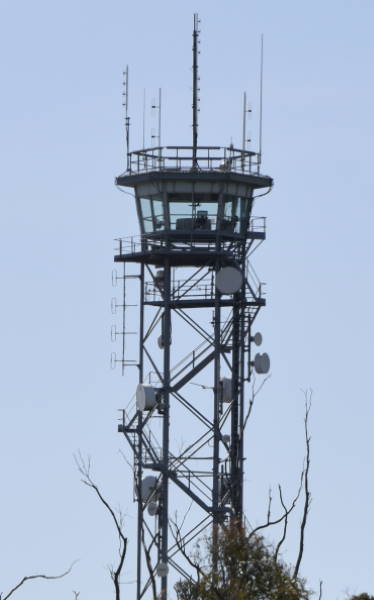 The CFS has a Fire Locating brigade, based at the Mt Lofty Summit. The brigade members role is to search for signs of smoke in a 360 degree radius at a distance of 40 km from the tower, which stands over 34 metres above the Mount Lofty summit. Any smoke sightings are reported to Adelaide Fire who will respond the appropriate brigades.
The tower at Mount Lofty has been operating for a number of years, however in November 2000, it formally became a brigade. Another site used in previous years was the Marble Hill residence of the Governor General. The residence was destroyed in the Black Sunday bushfires of 1955, but the tower was utilised for many years prior to the destruction.
The members of the Fire locating brigade are operational during the Mount Lofty Ranges Fire Season which is generally from the 1st of December through to the 30th of April, dependant upon the fire weather conditions each day. The members may work outside of the designated fire season if the Fire Danger Index is extreme. Outside of the fire season, the members assist in projects in preparation for the following season.
Each day in the tower, two brigade members will search for signs of smoke, with the use of binoculars. If smoke is located, the members will plot a bearing, work out an approximate distance from the tower, and then communicate with Adelaide Fire who will despatch the closest and appropriate brigade. The fire bombers may also be dispatched to assist, and can often have a load of water onto the fire to slow it down before the nearest brigade arrives.
A large number of fires have been located from the Tower, prior to being noticed by anyone else on the ground. This advantage has meant that fires can be located sooner, and action taken to prevent it becoming a larger fire.
Photographs on this page taken by the CFS Promotions Unit