Aviation and Airports
Providing response to airports and airstrips


The CFS have a large number of the airports and airstrips which lie within the CFS response areas, and the brigades that look after these areas have had specialist training in aviation disasters. Regular planning and training exercises with the Airport management ensure a rapid and effective response to any incident or impending incident.
The firefighting techniques used with aircraft are different to normal road crash incidents, due to materials the plane is made from, the fuel is a higher octane and larger capacity, and the number of people involved can be greater along with a greater impact speed.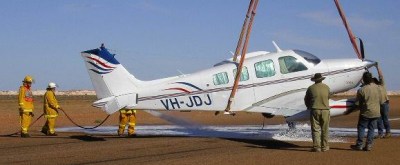 Equipment used includes the 'Jaws of Life' similar to Road Crash Rescue work, to help remove the plane from around the casualty, and bulk foam to cover any fuel spill. Time is the essence with this type of response and advance notice of an impending emergency is always welcome
Regional Airport information (Transport SA)
Photos from Ashley Hosking, CFS Promotions Unit, and Suzie Hawthorne, Coober Pedy CFS