Orchard and Viticulture Areas
Fruit Orchards & Vineyards.
An orchard is defined as an area of land devoted to the cultivation of fruit or nut trees. There are many areas in South Australia which are ideal locations for growing Orchard fruit, such as Quorn with their Quandongs, Waikerie with Citrus, Almonds, Stone fruits, Avocados, Olives and Persimmons etc. and The Adelaide Hills with Apples, Pears and Cherries.
Grapes can be found growing in most areas of South Australia, with the Adelaide Hills, Barossa Valley, Clare Valley, Riverland, McLaren Vale and Coonawarra amongst the most well known. Areas such as the West Coast and Mid North are now producing grapes and competing against some of the big names. Varieties found include: Red grapes Cabernet Sauvignon, Currant, Grenache, Mataro, Pinot Noir, Shiraz, and the White grapes Chardonnay, Doradillo, Muscat, Gordo Blanco Palomino, and Pedro Ximenes, Riesling, Semillon, Sultana, Waltham Cross.
Whilst much of the land used for orchards and vineyards is well maintained and worked on, sometimes it is the surrounding industries which pose concern for the CFS, such as the use of chemicals on properties, bulk storage of spirits and wine, and large transport mediums.
With the amount of water to these areas decreasing due to drought, orchardists have adapted by using minimum till and mulching, which has provided fuel for fire in the summer period and combined with limited access to appliances due to row width and tree canopies has created some problems for firefighters.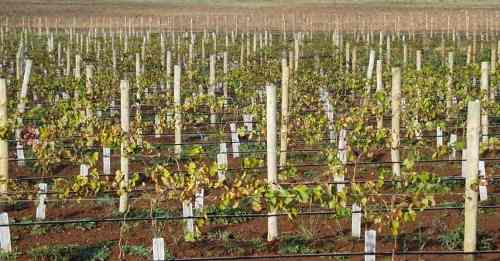 Photos from Ashley Hosking, CFS Promotions Unit