Operational Members
In the CFS, the firefighters you see out at incidents and other activities in uniform are called Operational Members. They can be Male or Female, aged from 16 years of age upwards, and may attend a various array of incidents such as:
Bush and grass fires
Structural fires
Storm damage and floods
Motor vehicle accidents
Hazardous Materials spills
Industrial accidents
Being an Operational member involves obligations and responsibilities to your brigade. These are formalised by a ranking structure, mentioned in the previous page and this ensures everyone knows what they have to do to be part of the team.
Further details on each of these types of incidents can be found on the menu at the left of this page, under Response Types.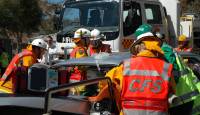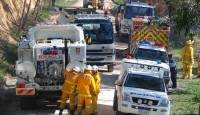 Each brigade has its own criteria for accepting members so it is worthwhile checking out the Brigades Station Display page to find out more details.
Photos taken by CFS Promotions Unit