Training
Training is a vital part of the CFS.
Most brigades train on a regular basis, many once a week, some once a month, some twice a week. Brigade training varies widely across the CFS. It depends on what functions the brigade provides, for example a brigade that has Road Crash Rescue equipment, might practice cutting up a car at training. A brigade that is not equipped with Road Crash Rescue equipment might practice stabilization techniques for a crashed car.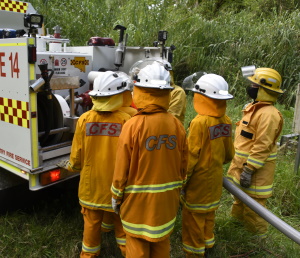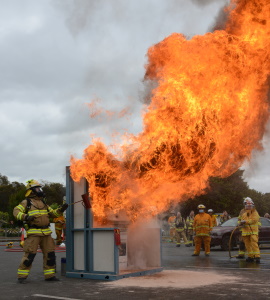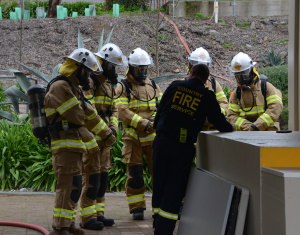 Training can involve a wide range of skills, which might include: pumps and hoses, radio procedures, driving, first aid, vehicle crashes, hazardous material spills, extinguishers, burn offs, Breathing Apparatus, familiarisation of important buildings within the brigade's area, visit to other brigades or agencies, food preparation, incident managements systems, the list is endless!
The CFS also provides courses external to the brigade, on a Group, Regional and State basis
All members must undertake the Basic Firefighter Course (BF1). If you intend to go out to incidents, then you MUST undertake this course, prior to being allowed on the appliance to incidents. This course should be undertaken within the first 6 months of joining.
After completing the BF1 course, other courses external to the brigade are optional, but members are encouraged to undertake them.
These courses can include:
Rural Fire Suppression,
Defensive Fire Suppression,
Plantation Firefighting,
Operate pumps,
Map Reading,
Breathing Apparatus,
Compartment Firefighting,
Leadership,
Hazmat Combatant (dealing with hazardous materials spills),
Road Crash Rescue training,
Safe Off Road Driving,
Chainsaws,
First Aid,
Sector Commander,
Strike Team leader,
Staging Area Management,
and Instructor courses in
Breathing Apparatus,
Compartment Firefighting,
Road Crash Rescue,
Hazmat and more

Photos taken by CFS Promotions Unit and Phil Tapscott