Training Services
Training Development and Delivery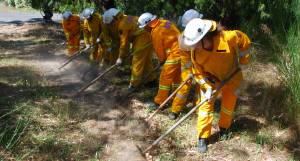 The Goal of the State Training Services:
CFS personnel are competent to safely combat emergencies effectively and efficiently.
Key directions
Ensuring that, as a Registered Training Organisation, the development, delivery and assessment of training represents best practice.
Ensuring all training programs are based on a needs analysis and risk assessment.
Implementing a framework that ensures all firefighters possess the appropriate competencies for the tasks they do and the risks they face.
Ensuring that specialist training in advanced competencies is available to CFS personnel.
Ensuring that professional development opportunities are accessed to keep our personnel at the forefront of emerging trends in firefighting and industry.
Developing career paths for our instructors to ensure that they continue to increase their skills in the development and delivery of best practice training opportunities.
Ensuring that training and development opportunities are available for leaders, supervisors and incident management personnel.
Ensuring that all training facilities provide safe and realistic training scenarios to develop the competencies of our people.
Evaluating the effectiveness of training programs.
Volunteer training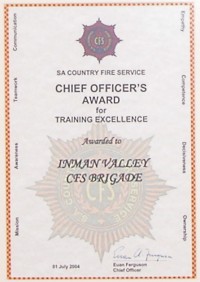 The level of participation by volunteers in all areas of training continues to grow with many brigade firefighters gaining a minimum of one formally recognised training accreditation throughout the year.
Each year, Brigades across the State are recognised with the award of the Chief Officer's 'Certificate of Excellence in Training' for achieving all aspects of the Standards of Fire and Emergency cover. This prestigious award was first presented in 2003, in recognition of the sustained effort of brigades that strive to achieve all training requirements.
The Training Department continues to migrate to units from the Public Safety Training Package in order to support the delivery of Nationally Accredited Training. To enable this, the emphasis on volunteer professional development continued. The CFS has an extensive range of nationally accredited volunteer instructors, with several holding 'Train Small Groups', 'Workplace Assessor' and 'Certificate IV in Workplace Assessment and Training Systems'.
The Training Department benefited from the completion of major capital works projects, at both the State Training Centre and the Naracoorte Training Centre.
The addition of Ablution facilities, $54 000, at the State Training Centre (Brukunga) has further enhanced the convenience of the site. The Naracoorte Training Centre has made extensive use of the recently opened classroom facility, $44 000, and this has brought a welcome improvement to the training conditions experienced by volunteers from Region 5.

Training support to other agencies and government departments continues to grow. CFS has provided training in the areas of leadership, compartment fire behaviour and compressed air breathing apparatus. There is an increasing degree of cross training and support between CFS and SAPOL and both agencies continue to progress training associated with the merging demands of Chemical, Biological and radiation (CBR) and anti-terrorist training.
CFS has now employed additional Rural trainers, to assist in the delivery of Basic Firefighter 1, Suppress Wildfire, and other rural orientated training courses.
Portions of this page from the CFS Annual Report 2003-2004